---
---
---
---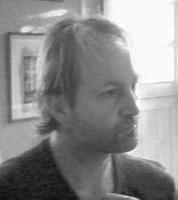 Jeroen talks to Charlotte Wilson on the Sound Lounge:
---
London based Jeroen Speak studied composition with Michael Finnissy and Jonathan Harvey at the University of Sussex where he completed a PHD in 2003.

The recipient of numerous national and international awards, Including the Irino prize (1998) and the Yoshiro Irino Memorial Prize (1992) Speak has been featured and commissioned by many International Festivals, including; Gaudeamus, the Huddersfield Festival (UK), ISCM World Music Days, Darmstadt, and several ACL Festivals. He has been broadcast and performed worldwide. He has worked with some of todays most exciting musicians, most recently; Elision (Australia), Lontano (UK), Forum Music (Taiwan), Stroma (NZ), Mark Knoop (UK), Severine ballon (France), Richard Haynes (Germany), Ensemble Antipodes (Switzerland), Nicolas Hodges (Germany/UK), and Arne de force (Belgium).

With the support of funding from the British Council, and other organisations, he has conducted research and worked extensively in Taiwan and China where he has lectured, organised workshops and performances of contemporary music, and been Composer in Residence for Visiting Arts (UK/China) and Artist Links (UK/Taiwan), culminating in several high-profile commissions/performances and the release of several recordings of his music, including the CD release of his Percussion Concerto in 2014 by Forum Music. He has been shortlisted for the British Composers Awards, and the Silver Scroll awards, was an SPNM Shortlisted Composer, and New Voice at the BMIC. His current compositional interests include new approaches to timbre, tuning and notation derived from his research in China and Taiwan.

As a freelance composer, Jeroen is currently NZSM, Jack C Richards Composer in Residence at the New Zealand School of Music, and Composer in Residence with Orchestra Wellington.